VPN Client Access
PositivePro™ SSL VPN Client is an ideal solution for enterprises that want to offer their users a complete LAN extension to the corporate network while ensuring that every remotely connected computer is secure and locked down to corporate standards.
PositivePro SSL VPN Client is a complete remote LAN extension solution that provides full, SSL VPN-based access to corporate resources. The technology affords all of the benefits of an Internet Protocol Security (IPSec)-based solution without IPSec's problems and limitations.
The PositivePro VPN Client can be downloaded from ANX or a corporate site using an ordinary browser, or provided on a CD-ROM. After installation, the VPN client is readily available from the system tray by simply double-clicking on the VPN client software icon. Launching the VPN client creates a special virtual desktop environment that places the user's PC on the corporate LAN.
PositivePro
™

SSL VPN Client Features

All the features below are designed to work for both company-owned laptops, as well as home PCs. No hardware purchase is required to subscribe to the service. The service includes:
IP VPN Capable of scaling easily and quickly to support thousands of employees. IPSec tunnels with 168-bit 3DES encryption fully supported. All tunnels run through the network facilities of PositivePro. No customer VPN hardware required.
Web-based provisioning and installation Provisioning thousands of users is a simple exercise with the PositivePro web-based tool. Users simply click on a web link to download and install Positive VPN Client and begin using the service.
Personal Firewall Individual protection for each end-user of the system. This firewall is integrated with the overall service and controlled by policies set by the administrator. By policy, any firewall ruleset can be implemented. Automatic actions can be specified in cases where the firewall is taken down or modified to not conform to company security policy (e.g. user can be disconnected and taken to a captive portal).
Virus Protection Antivirus software and automatic updating of this software is an integrated part of the system. This is also under the control of the administrator, and users with any virus issues can be automatically prevented from having access to the SSL VPN.
Spyware Protection Powered by SpyBot - Search & Destroy, administrators can set up a policy that requires spyware detection checks by all remote users through both the VPN client and WebTop 3.0. Administrators can set how often the checks need to occur and whether to let the user decide what to do if spyware is found or automatically remove any spyware applications. Similar to Virus Protection, if users don't have SpyBot on the remote computer, it can automatically be deployed.
Web-based provisioning and installation Provisioning thousands of users is a simple exercise with the PositivePro web-based tool. Users simply click on a web link to download and install Positive VPN Client and begin using the service.
Positive Security Module Provides support for additional security features, such as preventing remote access users to have open drive shares, SecurID authentication, and any necessary software updates and patches.
Reporting Provides comprehensive reporting on system status and performance, system usage patterns, and security issues. Both historical and real-time reports are available through an intuitive web interface.
Positive Administration Tool A powerful web application which allows an administrator to conveniently change any Policies, Actions or Configuration settings, and push changes to remote users in real-time. Administrators can easily operate on individuals, groups or the company as a whole.
Private File Areas Secure folders or drives that are not visible until a user has been authenticated. All documents are encrypted within these areas. This provides a secure environment that is safe even if a computer is stolen, or an unwanted party gains access to an employee's computer.
Positive Backup A best-in-class network-based backup system. The user can just select any file or folder and it will be backed up onto Positive's safe and secure network servers. Or schedule a backup job, to regularly backup documents at times that are convenient for the user.
Automatic Drive Share and Printer Mapping When the user signs in to the system, this feature allows his desktop to be automatically reconfigured so that all corporate resources he might need are available. All in accordance with company policies regarding access rights, passwords and security. No user intervention required, dramatically reducing user support requirements. Upon signing off the system the desktop is unconfigured to its original state.
Remote Application Distribution Imagine a large-scale remote work environment. How can you be sure that employees are running the right versions of the right applications on their home computers? How can you be sure that your company is in compliance with its software license agreements? With the Positive application distribution system, we manage the entire process for you, making sure your employees are up and running with the right applications, configured in the right way.
Custom Application Support Do you have an in-house or custom application that you would like remote users to run? Let us work with you to make your application a supported part of our system. In this way, we can distribute your application to your users, and use our policy infrastructure to centrally control and configure it for each remote user.
View a Demo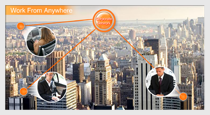 Navigation
Resources
Benefits
No hardware to purchase
Superior endpoint security
Packed with productivity features
Scalable and affordable
Learn More