Highest Available EDI Solution—Guaranteed
Electronic Data Interchange (EDI) / B2B eCommerce is the method of choice for critical communications with trading partners throughout the global supply chain.
ANX Delivers Superior EDI
ANX provides superior EDI value in three critical areas:
Availability. ANX uniquely places EDI traffic on multiple ANX-certified VANs. ANX constantly monitors its VAN providers and will work with customers to make changes as needed, if their needs can be better met on a different ANX-certified VAN. This flexibility enables ANX to offer the industry's best standard service level agreements, and provides customers the peace-of-mind to know they are not tied to one VAN. They can switch providers if desired—with no need to change contracts or pay migration fees.
Security. ANX runs one of the world's largest managed networks and is a leading pioneer in secure cloud computing. With ANX EDI, a single data stream connects you to the ANX cloud for a completely secure delivery of every B2B transaction to all trading partners.
Service. ANX has earned an extraordinary service reputation with over three decades of experience providing business transaction solutions. Our expert support is staffed in multiple locations in North America rather than off-shoring the service function. Our experts have an average of 12 years' EDI experience for fast and immediate issue resolution.
ANX Electronic Data Interchange Benefits
EDI service built on a single value-added network (VAN) can be an issue when high availability is a concern. The unique ANX architecture eliminates this vulnerability, delivering the highest availability over multiple tier-1 VANs.
ANX Electronic Data Interchange (EDI) offers the following unique benefits:
Superior Availability and Dependability. ANX's approach to EDI featuring multiple tier-1 VANs with monitoring and rollover as needed, allows ANX to offer the industry's best built-in SLAs with 99.5% uptime guaranteed.
EDI as a Managed Service. ANX experts manage the transition to ANX EDI for all supply chain partners. To date we have successfully onboarded over 20,000 partners.
Expert 24 × 7 Support. ANX expert EDI associates resolve 97% of all issues on first call and are based in North America.
Document Standard Expertise. ANX mapping/EDI professionals are trained in all document standards, alleviating the need and cost for client mapping personnel.
Class-Leading Visibility Tools. Partners can quickly determine the disposition of a document and resend with ease when needed.
Value-Added Applications. Component process applications built on core infrastructure provide visibility and optimization of all EDI processes.
Multi-Protocol Support. Support of all popular communications protocols and a web-based solution ensure 100% connectivity of supply chain partners.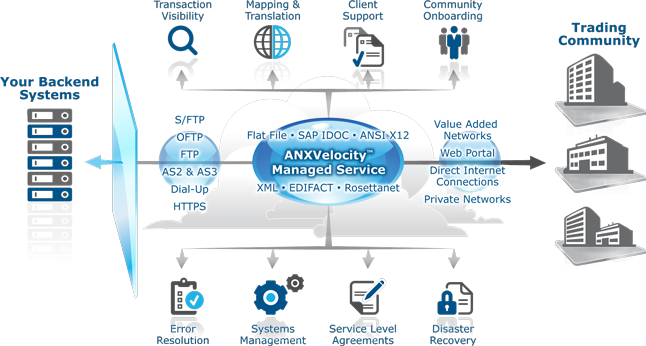 ANXVelocity® Multi-VAN Network
ANXVelocity® is a unique integration platform that enables and streamlines cross-enterprise business processes. With a multi-VAN architecture, ANXVelocity® helps customers achieve 100% automation with trading communities while providing reduced risk via VAN Redundancy—a solution not available via your typical VAN Providers.
Typical VAN Implementations lock you into a contract with one VAN provider, limiting your flexibility, choice and increasing risks.
ANX has squarely addressed the limitations and risks associated with a single VAN provider by providing all ANXVelocity® clients with Choice, Flexibility, and Service Level Guarantees for VAN Availability and Help Desk responsiveness.
Navigation
Resources
Solution Brief Previews
Benefits
Multi-VAN provider flexibility
Experienced EDI customer support based in North America
Deep expertise in EDI mapping and partner onboarding
Learn More