Standard Web Browser Access
PositivePro™ WebTop, a secure web-based solution, offers capabilities typically not found in clientless solutions, such as control of remote desktops, local machine support for client/server applications via dynamic application tunnels (DAT) and even anti-virus, anti-spyware and firewall management - all through a standard Web browser.
Unlike some other "clientless" web-based VPN solutions, PositivePro WebTop access affords nearly all the functionality of client-based access methods. Users have a portal to virtually any corporate resource, including e-mail, file servers, client/server applications, terminal emulation and more. All applications are secured using the proven secure sockets layer (SSL) encryption technology built into the Web browser.
Using an ActiveX control, WebTop offers most of the same features as the PositivePro client via the web:
Anti-virus and spyware detection
Local Microsoft Outlook reconfiguration
Native support to client/server application
Application deployment
WebTop Features
PositivePro WebTop™ provides much of the same functionality as the PositivePro VPN Client service, but is accessible through any standard browser. This means that no software has to be loaded onto the remote computer (or other device). It also means that virtually any device (or operating) system is now available for connecting to the company LAN. A PositivePro WebTop user has access to company resources with more flexibility than ever before.
Most Any Device

Any device than can run a standard browser is now a means of connecting to the company LAN. This includes non-traditional devices such as web-enabled phones and PDAs. It is also ideal for use when you do not have access to your own computer.

Most Operating Systems

Any operating systems that can run a standard Internet browser is compatible with our system. Windows, MAC, Unix, Linux, WAP, are all supported when using the WebTop service.

No Client Download

There is no software to load onto the remote device. Just connect to the Internet through any standard browser and the WebTop is available to you.

Run Client/Server Application over the Web

Using our Dynamic Application Tunneling technology, you can run any client/server application through the WebTop with no major setup or configuration by the administrator. No more need for Outlook Web Access! Launch Microsoft Outlook and it will automatically securely connect to your corporate exchange server.

Complete Access to Intranet Websites and Web Applications

Network Drive Access Access

to files stored on network drives on the company LAN.

Resource Control

Access to portions of the Intranet can be restricted through the Policy Manager.

Remote Access to Office Desktop

Network-based Backup and Restore

Access From Behind Other Company Firewalls and Proxy Servers
View a Demo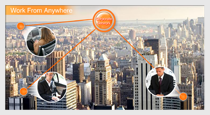 Navigation
Resources
Benefits
No hardware to purchase
Superior endpoint security
Packed with productivity features
Scalable and affordable
Learn More