Site to Site VPN
The PositivePro™ Site-to-Site VPN Network Connector solution connects branch offices and other corporate facilities, including the headquarters, into an enterprise-wide VPN. Network Connector can be used to inter-network multiple sites, as well as to connect remote access users to the resources available at these sites. The product is a VPN gateway implemented in software that can be provisioned quickly and easily on any ordinary Windows 2000/XP PC or server.
The PositivePro Site-to-Site VPN service seamlessly integrates sites that utilize IPSec connections implemented in firewalls, routers or VPN gateway appliances. Unlike other LAN-based solutions, the Network Connector gateway aggregates all traffic (including any IPSec tunnels) on a single PositivePro VPN tunnel, which can help avoid the additional charges some carriers levy on multi-user sites. This overcomes a common problem with IPSec-based solutions that assign each local user a separate VPN tunnel.
Monitoring and management are provided, as with the remote access solutions, via the PositivePro Policy Manager. VPN tunnels can be monitored both individually and in the aggregate. Troubleshooting is available within the PositivePro RASC, utilizing ping and traceroute. Constant monitoring ensures that support personnel at ANX are notified immediately if a problem would occur.
View a Demo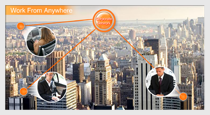 Navigation
Resources
Benefits
No hardware to purchase
Superior endpoint security
Packed with productivity features
Scalable and affordable
Learn More