Customized Security Help Desk and Onsite Support Services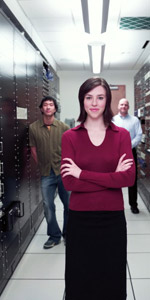 ANX believes that customer service does not end after the sale, and that our clients often need and deserve continued expert security support services. To meet this need, ANX has developed customizable, competitively priced, certified help desk/support along with onsite support service offerings. These services encompasses the majority of the security solutions ANX has rigorously tested in our Certified Lab such as Firewalls, IDS/IPS, SIEM, Proxy, DLP, etc.
ETassist™ has set a new industry standard for support and onsite support services. Our help desk/support team is staffed by certified, experienced security and networking experts who possess an average of 15-25 years of experience in administering corporate security in Fortune 500 organizations. In addition, we pride ourselves in a model that allows customers to reach a Level-3 equivalent support member at the initial engagement; there is no longer a need to escalate up to appropriate support levels for problem resolution. We put you there at the start. The ANX perspective is that of an extension of your corporate team. We strive to maintain an understanding of your corporate environment, infrastructure, and security policy that not only allows us to address specific technical and business goals but also have the familiarity to accurately address any issue that may arise.
The ANX Support Difference, at a Glance:
Certified Security Expertise
Global 7x24 Service Operations Centers and Data Centers
First call to Level-3 Support
8x5 Support or 7x24 Support Options
30-minute Guaranteed Response Time
Named Customer Advocate
Named Senior Security Engineer
Executive Sponsors
Scheduled Conference Calls
Scheduled Onsite Visits
Guaranteed 4-hour Onsite Level 3 Support
Knowledge of Your Environment
ANX Certified State-of-the-Art Security Labs and Operations to replicate and evaluate client configurations and trouble-shooting activities
Services also include:
Coordination of software and hardware maintenance annual renewals. Manufacturer maintenance includes major and/or minor version releases, RMA ability (where applicable), escalation to manufacturer R&D (when applicable), and service packs.
Hardware Advanced Replacement Service, which includes same day shipping service from the appropriate regional warehouse for parts orders received prior to 1500 GMT.
Documented Service Level Agreement (SLA) with escalation procedures.
Available Premium Services:
The ability to securely store and update current configuration data on ANX premises to facilitate resolution of issues.
The ability to enable secure, remote access to your environment so that issues can be worked by a subject matter expert in real time.
The ability to request emergency on site assistance (guaranteed 4 hour response time within 100 mile radius of Mount Laurel, NJ.) Emergency on-site support is provided at a contracted rate.
The ability to schedule on-site hardware replacement or assistance with changes to your environment. Scheduled support is provided at a contracted rate. (Travel expenses within 100 mile radius of Mount Laurel, NJ are waived).
ANX Licensing & Renewals Management
ANX offers complimentary Asset Management Services to handle asset maintenance/support renewals, End of Life/Support notifications, and recommendations for End of Life replacement. Our experienced licensing specialists function as a central contact for simple and timely resolution of your asset management requirements.
Our service is based on our ongoing monitoring and harmonization of asset support contracts, and proactive management of the renewal process. This service ensures support continuity for client security systems, and liberates our clients from spending valuable resources on the often tedious paperwork involved in such processes.
For more information on our licensing and renewals management service, call an ANX Customer Advocate at +1 856-222-4222, or e-mail to renewals@ANX.com.
Navigation
Benefits
Security, availability and performance unmatched by public Internet solutions
Industry best enterprise SLAs delivered to small and medium sized companies
Fully managed solutions include network engineering support and 24 x 7 monitoring
Learn More