Press Release
ANX and ENX Interconnect Networks to Support Worldwide eCommerce
Posted July 21, 2010, 10:38 am by Kim Francisco

ANX
ANX and ENX Interconnect Networks to Support Worldwide eCommerce
Interconnection of leading industry networks creates a joint user base of over 1,600 companies
FRANKFURT, PARIS, SOUTHFIELD (Mich.) – July 21, 2010 - ANX, a leading provider of networking and managed security services, and ENX Association, the governing body of the communications network of the European automotive industry, today announced the interconnection of their networks, creating a global standard for secure business-to-business (B2B) data communications. The official agreement, which certifies ANX as an ENX Service Provider, was signed on July 8 in Berlin after a successful two month pilot phase.
The interconnection of the ANX and ENX networks allows the currently more than 1,600 connected suppliers and OEMs in both North America and Europe to establish secure, private connections with any other connected business at no additional cost. This improves the performance of eCommerce and eliminates the risk of potential business disruption caused by problems with the public Internet.
"We are very excited to have connected the ANX and ENX networks," said Rich Stanbaugh, president and CEO of ANXeBusiness Corp. "Significantly increasing the size of our communities while maintaining our stringent requirement for performance, availability and security creates tremendous value for our customers."
"ANX has always made it easy to securely connect to other trading partners," said Jamal Farhat, Vice President and Chief Information Officer of Borg Warner. "ANX is allowing us to establish connections to European based partners faster than previously possible."
ANX and ENX Managed Security Services support mission-critical business data exchange and real-time processes in sectors such as finance, product research & development and supply chain logistics. Using state-of-the-art encryption technology and network management, both private networks deliver dependable performance, complete accountability and highly secure communications. Guaranteed service levels and strict user identification protect companies from common public Internet security threats, vulnerabilities, performance problems and reliability issues.
"When we began our cooperation with ANX it was imperative that we provide a secure, unified communications network that would allow our customers to connect with the highest level of ease and at no additional cost," said Lennart Oly, Managing Director of ENX Association. "All project goals as well as the tight schedule were met in full and our joint customers now have a strategic edge when it comes to securely sharing information."
Setting the benchmark for industry networks over the last 10 years, ANX and ENX have already been selected by other North American and European industries such as Defense, Aerospace and Medical Equipment manufacturing. Physical interconnection, global connectivity and a common technology standard make Secure Private Cloud solutions even more attractive to other industrial and government communities.

About ANX
ANX (http://www.anx.com), headquartered in Southfield, Mich., has offices in Research Triangle Park, NC, Overland Park, KS, Philadelphia, San Diego, and Toronto. ANXeBusiness is focused on providing network and information security solutions, unified threat protection technology, and managed services that enable secure content delivery within and between enterprises. The company's foundation is built upon deep technical expertise, broad experience with mission-critical data connectivity, a passion for customer support and a proven record of supporting business needs across multiple value chains.
ANX continues to expand rapidly, completing six business acquisitions since 2007. The company was recently recognized as one of the world's largest software companies in Software Magazine's Software 500. In addition, the company was also awarded the "Best of the Best Michigan Business" by Corp! Magazine and was named as a "HOT Company" for 2009 by Network Products Guide.
ANX is owned by One Equity Partners (http://www.oneequity.com), which manages investments and commitments for JP Morgan Chase & Co. in private equity transactions.
About ENX
ENX Association (http://www.enx.com) is headquartered in Frankfurt and Paris and represented in London, Madrid Stockholm and Istanbul by renowned automotive associations. It governs the communications network and managed security service of the European automotive industry supporting critical data exchange in the fields of design, engineering, logistics, production, marketing, HR and finance.
Growing continuously since 2000 ENX' six competing certified service providers BT Global Services, Orange Business Services, Telefonica, T-Systems, Turk Telekom and Verizon Business are currently connecting more than 1.000 organizations in more than 30 countries. Three additional service providers have entered the certification process within the last 6 months.
The non profit organization was founded in 2000 by the automotive industry and is completely governed by Audi, BMW, Bosch, Continental, Daimler, DGA, Ford, PSA Peugeot Citroën, Renault and Volkswagen as well as the national associations ANFAC, GALIA, SMMT, OSD and VDA.
Press Contacts:
ANX
Mr. Dan Chmielewski
Madison Alexander PR
+1-714-832-8716
dchm@madisonalexanderpr.com
Mr. Ronnie Manning
Madison Alexander PR
+ 1-619-822-2239
Rmanning1@gmail.com
ENX Association
Mr. Stefan Gotthardt
ENX Association
+49 173 274 3550
stefan.gotthardt@enx.com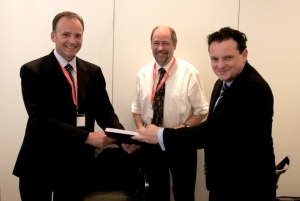 Edited January 12, 2018 by Glenn
You must be logged in to post comments.